Criticizing Medicare for All may get applause at donor parties in the Hamptons, but the attacks are helping Bernie Sanders in the rest of America
Bern Notice is a production of the Bernie 2020 campaign. Please forward this on to your friends and tell them to subscribe. The views expressed here are solely of the bylined author.
Kamala Harris today proved the old adage: promises made to big donors in the Hamptons don't stay in the Hamptons.
According to Bloomberg News, Harris visited the wealthy enclave this weekend, and told donors that she is has "not been comfortable" with Bernie Sanders' Medicare for All legislation -- which Harris is actually co-sponsoring. Harris generated big headlines a few months back when she unequivocally declared that she wanted to get rid of private insurance, but her spokesperson today said that "she isn't running on Bernie's plan anymore."
"Anymore"...priceless.
As unions and grassroots groups have helped build momentum for Medicare for All, Harris and many other 2020 Democrats have spent the past few weeks trying to short circuit Medicare for All and preserve the private insurance industry whose premiums, deductibles and co-pays now cost $28,000 a year to cover the average family of four. All that money isn't buying better care for millions of Americans -- but it is helping health industry CEOs get paid $2.6 billion last year alone.
The Harris flip flop is a reminder that while Medicare for All received an enthusiastic response at Bernie's Fox News townhall in Bethlehem, Pennsylvania -- it doesn't get that kind of response on the big dollar fundraising circuit in the Hamptons. It also probably wouldn't elicit a great response at Joe Biden's first fundraiser hosted by a major insurance CEO.
And so Harris, Biden and other Democrats aren't spending lots of their time attacking Donald Trump and the GOP for doing the bidding of their health care industry donors. Instead, they are attacking the Medicare for All framework that now has the support of the majority of Democratic lawmakers in the U.S. House. They are also refusing to join a pledge to reject campaign cash from insurance executives and lobbyists.
Now the question is: what are the political ramifications of this battle in the Democratic presidential primary? New polling and economic data provide some important clues.
The Obi-Wan Kenobi Principle
Obi-Wan Kenobi warned Darth Vader that "if you strike me down, I shall become more powerful than you can possibly imagine" -- and that principle now appears to be at play in the politics of health care. Indeed, it seems the more other candidates defend their insurance industry donors and attack Bernie's plan to replace private insurance with a Medicare for All system, the better it is for Bernie.
According to recent surveys from CNN, ABC/WashPost, Reuters and Morning Consult, Bernie is now the most trusted candidate on the health care issue.
One reason the attacks may be boomeranging is because of Americans' underlying sentiments about Sanders' signature Medicare for All legislation. Consider two points:
As Bernie put it at the recent presidential debate: "People don't like their health insurance companies, they like their doctors."
Insurance CEOs Are Eating Americans' Wages
Why is there such a hunger for fundamental change in our current corporate-run health care system? Because health care costs are gobbling up more and more of Americans' wages and time, without delivering better results:
Overall, the results of all this spending aren't better care, better outcomes or better coverage:
While all this is great for the health insurance companies that are pumping campaign cash into elections, everyone else is drowning in paperwork and legal red tape: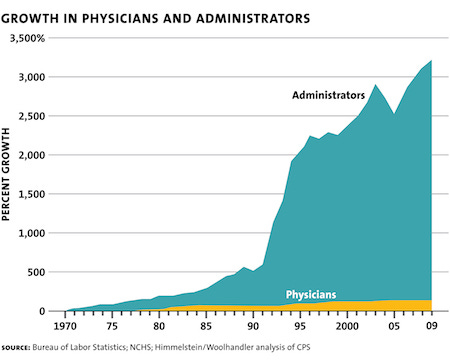 Taken together, journalist Dave Dayen says the corporate-run health care system creates a giant tax on Americans' free time.
"Once insured, Americans must make sure their health care providers, from primary care physicians to specialists, are in-network," he wrote in the New Republic. "There are reimbursement claims and deductibles and co-pays to be aware of. Those who have a health savings account have to file their receipts to use their own funds to pay for health care, which sounds simple but can be a bureaucratic nightmare, if some horror stories can be believed."
Back in January, Harris was touting Bernie's Medicare for All bill by noting it would attack this very problem. She said his legislation would mean "you don't have to go through the process of going through an insurance company, having them give you approval, going through the paperwork, all of the delay that may require….Let's eliminate all of that. Let's move on."
That's exactly what Bernie is proposing — and why the new attacks on his legislation in defense of the insurance industry are actually helping him.
Bern after reading,
Sirota